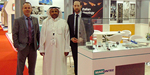 At the largest trade fair for Construction Engineering in the Middle East, Magontec successfully presented its program of magnesium anodes and the newest electronic anode solutions for cathodic corrosion protection for hot water storage tanks.
It was the first appearance at the BIG5 in Dubai where Christoph Klein-Schmeink, responsible for Magontec activity in Europe, North America and the Near East and his team were able to exchange ideas directly with customers in this fast-growing market region. In-depth discussions were held, new contacts made and existing ones strengthened.
The main topic for this year's common stand of Campini-Corel, Cotherm and Magontec was bundled expertise on solutions regarding all aspects of hot water storage tanks. Customers and interested parties were able to meet experts who complemented each other superbly in this segment, at a joint stand. The collective dialogue was greatly appreciated by the customers.
«The interesting discussions and in particular the first transactions resulting from our presence at the BIG5 have been most satisfying. They confirm that our decision to take part in the fair was the right one», says Christoph Klein-Schmeink, Managing Director of Magontec GmbH, Bottrop, Germany.
Magontec is a reliable partner for solutions in the field of cathodic corrosion protection and thereby a sparring partner in plant safety. For decades Magontec has been outstanding for its close and direct contact to its customers.
Photo: Christoph Klein-Schmeink, Managing Director / President of Magontec Europe, North America and Middle East, Abdulaziz Al-Mujahed, Jens Gruetzmann, Sales Manager Magontec GmbH (from left to right).
© Magontec GmbH – CKS/2016