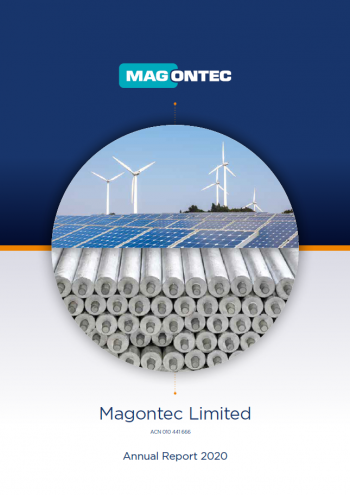 Over the last 12 months Magontec has recorded good progress across its anode and metals businesses in Europe and China despite the effects of COVID-19 and the burden of the loss-making primary Mg business at Qinghai.
Global magnesium anode sales volumes grew 17% during the year whilst in the metals businesses (excluding Magontec Qinghai), gross profit was up 32% on sales volumes lower by 29%. This reflects the COVID-19 slowdown in volume magnesium recycling activities and continued growth in sales of specialist alloys.
Magontec's primary magnesium alloy business continues to operate at lower levels. Our partner and supplier of raw material, QSLM, is expected to announce the next steps in its restructuring process and plans for the future of the project in the coming weeks.
Magontec came to the end of 2020 in a strong position, particularly considering the negative effects of COVID-19. The company has lower levels of debt and diverse and profitable operating businesses in Europe and China.
In the near-term we expect to bring news of our plans for the restart of production of primary magnesium alloys manufactured from liquid pure magnesium supplied by QSLM. The timing of this event is contingent on the conclusion of the QSLM restructuring process, an event that is outside of our control. However, recommencement of production at the Qinghai magnesium smelter according to the contractual arrangements would place Magontec in a very strong position in the global magnesium industry and significantly enhance the Company's profitability.
The full online version of our 2020 Annual Report can be found here.
Alternatively, the report can be downloaded in PDF format here.