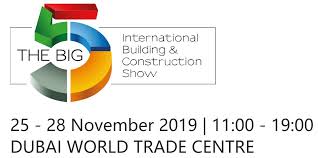 The BIG 5 took place in Dubai for the 40th time between the 25th and 28th of November 2019 and Magontec was – as in previous years – with its own booth.
With more than 2,500 exhibitors from 66 countries and around 68,000 visitors, this event is the most important forum for buyers, suppliers, and experts in the regions construction industry.
Magontec presented itself together with its co-exhibitors Cotherm and Campini Corel this year at a newly designed booth, which was also equipped with moving images for the first time. This allowed the numerous visitors to get a first-hand impression of how Magontec works and what values ​​the company encompasses.
"Thanks to our new video wall, we were able to attract a lot of attention from the trade fair visitors directly at the stand. Our short image film has aroused curiosity about the company and our products. We were able to connect directly to the content in personal discussions, " says Jens Gruetzmann, Director Sales CCP.
Magontec's innovative brand products for cathodic corrosion protection (CCP) for hot water storage tanks: Correx® Impressed current systems, HyTonic® magnesium anodes, CorroScout® anode tester and S-Partron® solar controller have again enjoyed much popularity this year. We were able to establish contacts with local companies that are currently carrying out the maintenance and testing of hot water storage and solar systems in Dubai, and to use high-quality products from Magontec in this context.
"Magontec has become a fixture in the market and now it is time to build on that position and strengthen existing customer relationships", Jens Gruetzmann, Director Sales CCP.
Magontec plans to participate in the Big 5 in Dubai again next year and is working hard to further develop the product portfolio in order to continue to be the innovation leader in cathodic corrosion protection in 2020.
Magontec is the leading provider of magnesium alloys, products for cathodic corrosion protection systems for hot water storage tanks with distribution in Asia, America and Europe. For more than 60 years, Magontec has been a direct supplier to the global automotive and household appliance industry.
The Magontec Group, which emerged from the former Norsk Hydro Magnesium, is today already the largest independent western manufacturer of magnesium alloys. The company is listed on the Australian Stock Exchange.