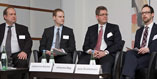 Magnesium anodes and new electronic solutions to protect tanks against corrosion were Magontec's recent contributions to the solar thermal conference SMEThermal on Feb 7, 2012 in Berlin.
Magontec's electronic circuit board potentiostats of the Correx® MP range lent momentum to the discussion of cost-optimization of the production of tanks. The new generation of potentiostats generates and controls the protective current for tanks on the basis of circuit boards and impressed current anodes. Correx® MP uses existing electric power supplies to save costs. Furthermore, Correx® MP improves the sensory quality of stored water. In many countries this contributes to improving the quality of life.
Jens Gruetzmann, Area Sales Manager of Magontec, hosted the 'Water storage' session. The participants of this panel discussion came to the conclusion that if the recent draft of the ERP-guideline is taken as a basis, the desired Label A+ for tanks will in future only be achievable by integrating solar thermal solutions.
Amongst the 170 company representatives and scientists present at SMEthermal, Europeans were joined for the first time by participants from China, India, Israel, South Korea and South Africa. This underlines the growing international importance of solar thermal energy. In 2012 Magontec will be further presenting its recent solutions for the cathodic corrosion protection of tanks in combination with solar heat in Europe, China and the Middle East.
Photo: ©Solarpraxis AG, Therese Aufschlager