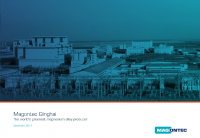 Magontec's investment in the new magnesium alloy cast house facility at Golmud signals our intention to remain a leading global supplier of magnesium alloy and magnesium alloy products.
Material from Magontec Qinghai will set a new benchmark for low-carbon magnesium manufacturing for a material that already enjoys high recycling rates.
Clink the link below to download the latest Magontec Qinghai brochure.
http://magontec.com/investor-centre/reports-presentations-page/