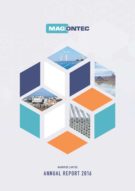 Press release
27 February 2017
Magontec Limited announces $1.1m Underlying NPAT*
FY2016 ANNUAL RESULT

Magontec Limited (MGL) announces a Full Year 2016 Underlying NPAT* of $1.1m, up $1.35m on the previous corresponding period. In 2016 the Company generated $4.9m of cash from underlying operations and a Gross Profit of $14.4m, up 11.6% on the previous corresponding period. The Company has enjoyed a period of strong growth across its metals and cathodic corrosion protection categories and is poised to commence magnesium alloy production at the new Magontec Qinghai facility in China.

Outlook
In the next few months we anticipate that Magontec Qinghai will commence production at the newly commission 56,000 metric tonne per annum magnesium alloy cast house at Golmud in Qinghai Province PRC.This is expected to be a company transforming event. Magontec Qinghai will become a high volume supplier of the world's lowest embedded-CO2 magnesium to customers around the globe. In the Company's other businesses, magnesium alloy recycling and magnesium anodes (Cathodic Corrosion Protection), we have made significant progress in reducing costs and developing new markets.

Nicholas Andrews
Executive Chairman
Contact details: +61 (0) 402 220 077
For further information, please refer to the Investor Centre.
*Underlying Net Profit After Tax is defined as Reported Net Profit After Tax excluding unrealised foreign exchange gains and losses.